The moment I realized Game Development is my Passion
---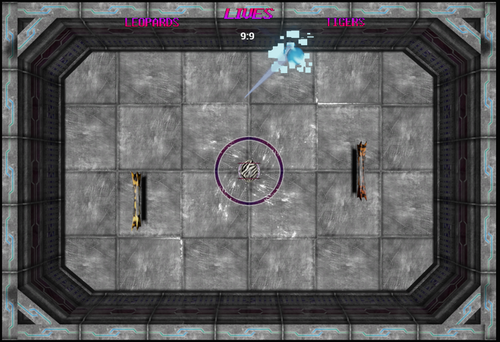 Before I knew Game Design was my calling, I attended a 2 week test course at the Games Academy I ended up attending.

During this course, we had the assignment to create a Pong clone in Unreal Engine in two weeks, creating the art assets and scripts ourselves. What you play here is exactly what I made in those 2 weeks. I have not worked on it again since then, since I want to look back at it as a symbol of how I've grown and where I came from! [So please excuse any bugs you find. It's their home and you are the visitor.]
I love going against the norm with my designs, so I decided my pong would be inverted: The player side walls just deflect the ball like a paddle would while the paddles are the "goals."
The ball flies faster after every time is bounces off the walls to add increasing difficulty, to the point where it might just not be dodge-able anymore. This prevented endless games where you got bored of watching the ball as it became too predictable. However, whenever it bounces off the walls, it freezes there in slow-mo for a moment, so that the dodging player has a moment to predict in which direction the ball will fly off next.
As simple as it is, the game is easy to learn, hard to master and keeps you engaged throughout the a whole round!
On the last day of the 2 weeks course, we got to present our projects and won certificates. I won second place! Which was actually the best, becasue I knew I had room to grow but I was also validated as being creative and hard working! It was great!
The best part, however, was that after the class was over, everyone in the class wanted to play my game....something I came up with and built and made and was proud of....and they had FUN!! They got competitive about it and laughed and experienced so much schadenfreude!
As I stood there and watched them play and laugh and have fun with my creation, I had my moment of "WOW...this is it! This is what I want to dedicate my life to!" And I've been learning and designing ever since :D
PS: We also had a narrative design lesson one of those days, in which I had to decide the "Story" of the game. I am terrible at this, however, so the "Story" is that the paddles are little space ships flown by the animal print colors they represent. Meaning, yes...space tigers vs space leopards! And the ball is a big metal ball of yarn! xD
And the prize? The space zebra egg you can see in the middle of the field! xD
It's ridiculous, but its my ridiculous mess and I'm proud... x)
Files
Kitty Dodgepong.zip
89 MB
May 23, 2018
Get Dodgepong - My very first Game